About the Man
Dr. George Washington Carver
George Washington Carver was born near Diamond Grove, Missouri, the son of former slaves of the planter Moses Carver. He was only a few months old in the last years of the Civil War when he and his Mother were stolen by raiders and carried into Arkansas. His Mother disappeared, but he was returned to Mr. Carver in exchange for a horse. He was given the name George Carver. Later at approximately age 10 - 12 after he left home in search of an education, he took the name George Washington Carver.
Carver educated himself in spite of the obstacles thrown up by racial prejudices and abject poverty, and advanced to a high place in the scientific and academic world. After receiving his undergraduate degree in 1884 George Washington Carver served on the faculty at Iowa Agricultural College, (now Iowa State College) in the Systematic Botany Library. In the same year Booker T. Washington persuaded him to become Director of the Department of Agricultural Research at Tuskegee Institute. In 1905 Carver became the Director of the Department of Agricultural Research and Experiment Stations, a position he held until his death.
George Washington Carver was a collaborator with the U.S. Department of Agricultural, Bureau of Plant Industry for three decades. He found numerous ways to improve agricultural practices in the South through soil conservation and crop diversification. He discovered new uses for existing crops, widened the use of native plants, and successfully developed methods for the utilization of waste products.
His research bore fruit in the form of synthetic products - 300 from the peanut, 118 from the sweet potato, and more than 60 from pecans. His creative touch brought synthetic marble from wood shavings, hundreds of vegetable-based dyes, pigments from clays, rope, cordage, mats and carpet from okra fiber, and excellent fertilizers from swamp growth and leaf mulch.
Dr. Carver refused staggering sums for the commercial exploration of his inventions, and instead gave them freely for the use of mankind and the Nation.
His distinguished service to humanity continues through the George Washington Carver Foundation, which he established in 1940 and endowed with his total lifetime savings. He died unmarried on January 5, 1943. His remarkable contributions to humanity and to the United States of America were recognized by Congress, which passed a resolution fixing the date of his death as George Washington Carver Day.
On July 14, 1943 Dr. Carver's birthplace on the site of the old Moses Carver Farm was made a National Monument. Amid the original walnut groves of the farm where, as a boy he began his botanical studies, the monument is marked by a plaque and bronze bust of the man who, born a slave, had become a scientist and a benefactor of his country.
Contrary to popular belief the USS George Washington Carver SSBN-656 was not the first ship named in his honor, there was another. Built in 1943 as a Liberty Freighter George Washington Carver was acquired by the War Department and converted to a Hospital Ship. On the recommendations of the Surgeon General she was renamed Dogwood, she carried no cargo and 597 patients. In January 1946 she was decommissioned as a Hospital Ship, converted to a Transport and reverted to her former name George Washington Carver.
---
On January 23rd 1998 A United States Postal Stamp honoring Dr. George Washington Carver was unveiled at the Main Post Office, Tuskegee, Ala.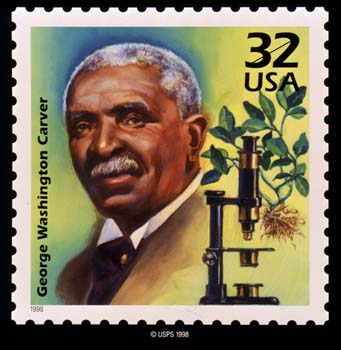 ---
On October 6th 1999 the United States Department Of Agriculture announced the naming of their Beltsville, Maryland facility the George Washington Carver Center. click here SECRETARY'S MEMORANDUM 5100-001 to read the informational release.

The Link will open in a new window
---
This page created by Jim Combs
Last Modified Wednesday, July 11, 2001, 10:41 PM - © 2001
The home page for this web site can be found here http://www.ssbn656.20m.com